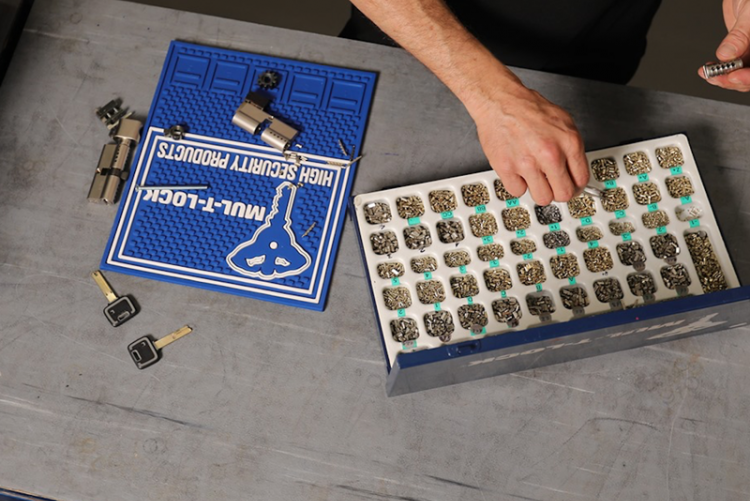 The most common reason to re-key or switch out your locks is to maintain key control of your residential or commercial property. At Safe and Sound, we offer various re-keying and security solutions. With the help of Mul-T-Lock's MT5 locking solutions and platform, we can guarantee you a level of maximum protection, flexibility, and convenience to meet your needs in any industry. The MT5 and MT5+ offer you a security solution for life, and we are here to make that possible! If you are tired of having your locks changed when an employee loses their key or fear you have lost key control, our MT5 solutions will help make your life easier, and here's why!
The Leaders of the Industry
At Safe and Sound, we only offer the most elite global leaders for your safety and security solutions, both physically and digitally. For nearly five decades, Mul-T-Lock, owned by ASSA ABLOY Group, has maintained its global influence in developing, manufacturing, and marketing high-security locking products and access control solutions for institutional, commercial, industrial, and residential applications. So, we just had to offer their product!
Mul-T-Lock values the relationship between us locksmiths and clients by providing a wide range of high-security and quality patented access solutions, including smart locking systems. Mul-T-Lock allows for our customers to have innovative and user-friendly products that bring you award-winning security and peace of mind.
The Mul-T-Lock MT5 System
The MT5 is a scalable and customizable multi-layered security that combines protective elements to create either a double or triple locking mechanism. It can support any-sized environment with a variety of formats and customized features to meet all your operational needs; whether it be cylinders, padlocks, locks, electronic door solutions, and more, one key fits them all!
Mul-T-Lock offers the highest number of real and theoretical key configurations that are difficult to replicate, unlike a standard key. With this one key, you have endless possibilities thanks to their patented advanced technology. The MT5 offers three independent locking components that not only provide an extra layer of security but secures your lock from picking or bumping.
The Triple Locking Mechanism
One of the triple locking features is the telescopic pin, which is a modification to the traditional pin-tumbler design. It consists of an external body pin and an internal body pin for a total of five telescopic pins that fit unique cuts on the MT5 key. By having this telescopic pin technology, your lock system is considered to be more effective and reliable. The second independent locking component is the parented alpha spring, a unique mobile element located at the tip of the key. This small feature only enhances the protection and security of the system. The third feature is the Locking Bar: a powerful sidebar locking mechanism, which interacts with the unique horizontal finger pins for extra protection. Together, these three additional layers of security create a state-of-the-art technology that hinders attacks, picking, and bumping.
The Ultimate Key Control
Mul-T-Lock sells a vast arsenal of field-proven, high-security solutions with maximum efficiency and optimized performance. With that in mind, they understand the frustration of maintaining key control, especially that of a business owner. Mul-T-Lock created an advanced technology for premium security with heightening key control with a unique coded Mul-T-Lock key card. This specific card controls who has access to make extra keys and is only readable by your local Mul-T-Lock dealer; that's us!
The Endless Possibilities
With one key, there are endless possibilities. The MT5 system offers individual keys that are encrypted with tamper-proof codes; each key is designated for use by one individual only. If the key is lost, it is conveniently rendered obsolete, and a new key with new code is generated in its place. There is no need to switch out all of your locks!
There is also the Master Keying option, which supports complex operational and organizational needs by assigning various levels of access to a user's key. There is the Keyed Different, which gives access to each door with a different key, or Keyed Alike, which provides access to multiple with a single key, or the 3-in-1 Keying, which instantly changes a lock's combination up to 2 times by simply turning a key.
The MT5 features a modular cylinder giving you the flexibility to quickly access and easily configure cylinder lengths according to your needs. If you have a problem, we can offer you a solution; no hardware modifications and no headaches with the MT5 system!
The Only Place in Town
Whether you want to reduce the number of keys in circulation or want more dynamic access control, the MT5 may be the perfect solution for you. We offer you the high security locking solutions that are designed and scaled to your locksmithing needs. With seamless access control and unmatched technology, your cost-efficient and customizable locking system is just a call away! Call us today at (239) 266-2457 or email us at [email protected] to discover for yourself the seamless transition into the state-of-the-art Mul-T-Lock system!